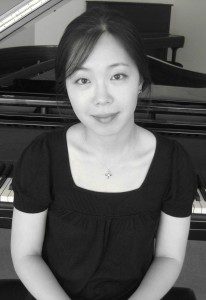 Yumi Cho displayed her mastery of each and every tempo to provide a perfect and iridescent performance. (B.Hoffmann)
When Yumi Cho moved to Germany in 2004 to study with Professor W. Wagenhäuser, she had already enjoyed a remarkable career in her homeland Korea.
She had already at the age of 10 won the national piano competition in South Korea.
After finishing the prestigious Arts High School Kay-won in Seoul, with first class honours, Yumi Cho studied at Kyung Hee University.
In 2004 she completed a Master's degree in music.
As a winner of the piano competition for young musicians, held by Korea Music Journal and E-Won Arts Centre, she gave numerous solo and chamber music concerts.
At the same time, Yumi Cho taught at the Ye-In Music Academy in Seoul and was an assistant to Prof. M.C. Kim at the Music Academy of the Seoul Arts Centre.
In Germany, Yumi Cho finished her studies with first class honours in Trossingen. Since then, she gives solo concerts (e.g. in Cologne, Refrath, Bergisch Gladbach and Bochum, including at Altes Rathaus Aixhaim, as a regular guest of the Eurasia Cultural Association of Gelsenkirchen) and chamber music concerts with various instrumentalists.