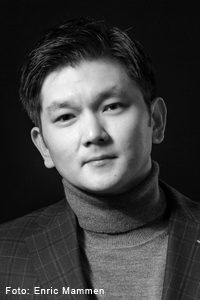 The German-Korean pianist, Bum-Suk Kim was born into an artistic family in 1977 in Seoul, South Korea.
At the age of 10, he won the 1st prize in Kyung-Gi Piano Competition. In following years, he was also awarded the 1st prize in the Korean Newspaper Piano Competition and Samik Piano Competition. At the age of 12, he debuted as a soloist with Seoul City Orchestra.
At the age of 14, he was recommended by Prof. Helmut Weinrebe to study at the Hochschule für Musik und Tanz Köln in Germany, where he was accepted as a student of Prof. Pavel Gililov and graduated with 1st class honours in 1999. In 2004 he finished the Konzertexamen.
During the course of his studies, he won several 1st prizes in such international piano competitions as Finale di Ligure, Citta di Sulmona, San Remo Classico and Valsessia Viotti. In 1998, he was selected to attend the master class of Oleg Meisenberg at Klavier-Festival Ruhr. His brilliant performance was also complimented by Bruno Leonard Gelber when attending the master class of the legendary pianist in 2003. Bum-Suk Kim performed with numerous orchestras, including the Peking Central Orchestra in China, the Sachsen-Anhalt Youth Orchestra in Germany, the Rumanian Mihail Jora Orchestra in Italy, and the Dae-Gu City Orchestra in South Korea. His performance with the San Remo Philharmony Orchestra in 2000 was broadcast on Rai Uno throughout the whole of Italy. He was also invited to give recital tours in Italy, Austria and Belgium, including the Konzerthaus in Klagenfurt, which was broadcast on Austrian Broadcasting (ORF). Since 2004 he has been Artistic Director at Eurasia Kulturverein in Gelsenkirchen, Germany. In 2006 he suffered serious injuries to his left hand in a car accident, which took him away from his concert carreer for a long period. Fortunately he was able to regain his virtuosity and return to concert halls, such as the Liszt Salon in Weimar. As a soloist, he performed with German Korean Chamber Orchestra in Cologne. Since 2010, he has also been a member of the Trio Valdonica.
Bum-Suk Kim is also an experienced teacher. He has given private lessons for 15 years for young pianists preparing for entrance exams of music colleges in Germany. Since 2009 he has taught at the Hochschule für Musik und Tanz Köln, Germany. Since giving a master class in 2006 together with Jean Micaut, he has taught regularly at master courses in Germany and Italy.
Bum-Suk Kim's repertoire in performance extends from Bach to the modern but he particularly loves the music of Franz Liszt.